Landscaping, Tree Surgery, Garden Maintenance, Lawn Care & More
Gutter cleaning services in Oxford…
A Better Way to Clean Gutters in Oxford
If clambering up a ladder to remove leaves and debris from your gutters doesn't appeal, don't do it! My Gardeners Oxford offers gutter cleaning in Oxford that's quick, simple and much safer than working while balanced at a height. This is definitely one of those instances when having the right tools for the job makes life much easier.
The Importance of Regular Gutter Cleaning
Because out of sight is out of mind, keeping gutters clear is a property maintenance job that's often forgotten about. But there are lots of reasons why you should make sure it's done regularly:
Standing water in metal gutters will lead to rusting and undermine the integrity of the system

Leaves in gutters can be a breeding ground for insects and other pests
Leaf and debris build-up causes blockages in downpipes and overflow from the gutters themselves
Blocked gutters will ultimately damage brickwork or rendering in your home
You may be refused an insurance claim for water damage if you've failed to maintain and clean guttering
My Gardeners Oxford Has the Equipment to Make Cleaning Gutters Simple and Safe
Your gutter cleaners in Oxford don't bring ladders. What they do bring is a powerful wet vacuum cleaner with a very wide nozzle and extendable poles. This allows the cleaners to work up to around 10 meters high.
The equipment also has a camera attached. So the cleaners can see exactly where blockages are, and once the work is completed you'll be able to see for yourself that rainwater can now flow cleanly.
Using a camera for this service also means that the overall condition of the gutters can be checked at the same time as they're cleaned. Spotting problems at an early stage means that repairs are simpler, and they happen before there's any risk of water damage to your property.
Gutter cleaning is completed by gardeners in Oxford who're also trained and certified in the use of the equipment used for this work and your service is fully insured.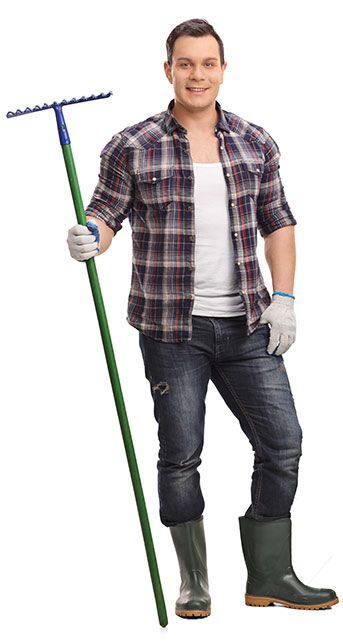 Cleaning Gutters at Oxford Domestic and Commercial Properties
My Gardeners Oxford offers gutter cleaning at any property where the roofline is at or below 10 metres and there is suitable access for the equipment. To find out a more about the service and to get a free, no-obligation quote just call us on our 24/7 support line.
Once the details are worked out you can go on to book your service. You'll choose an appointment for any day of the week that suits you, including weekends and you won't have to pay a deposit to confirm your reservation.